Securing land and water rights for marginalised communities through people led advocacy.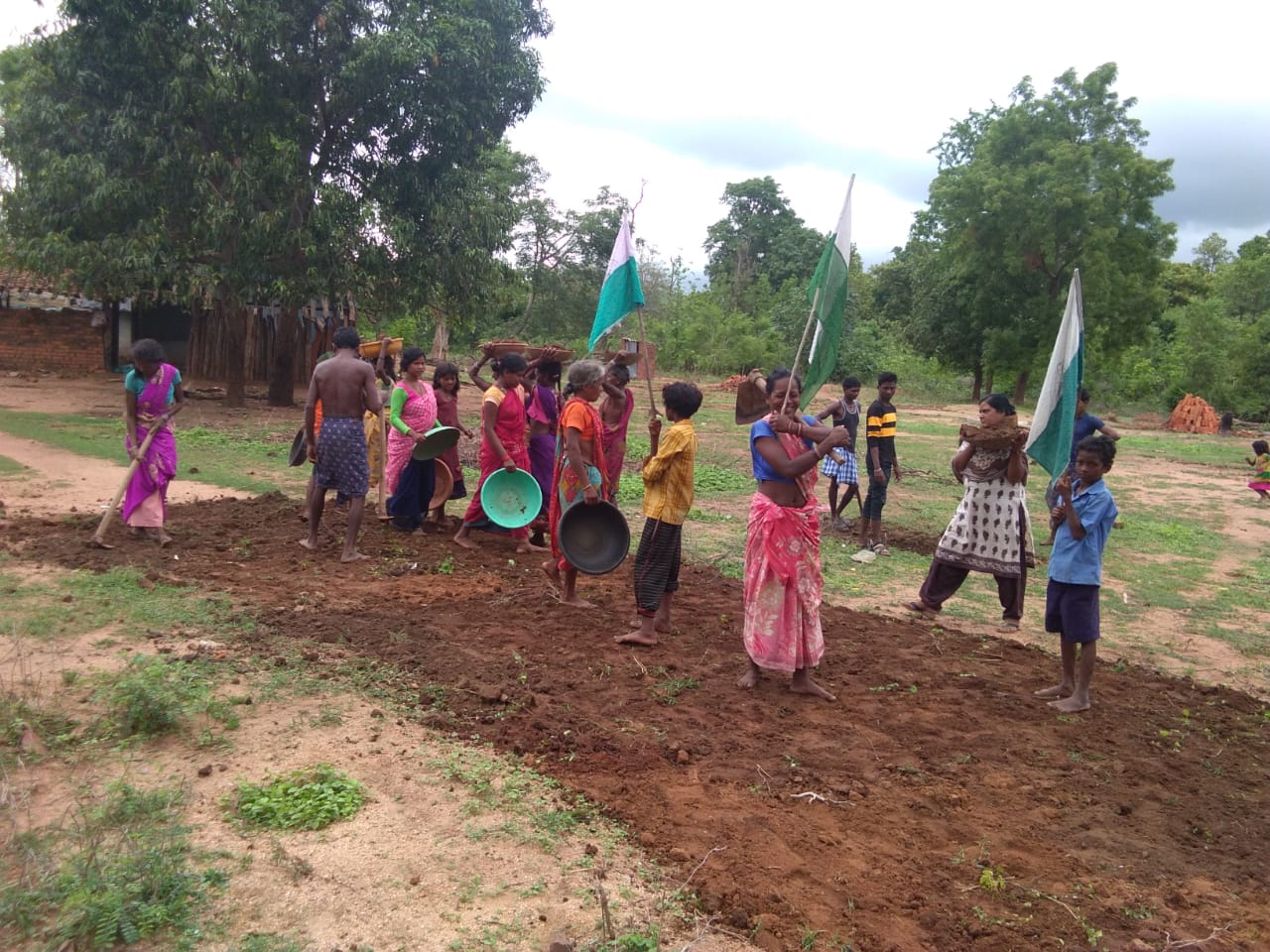 Project Category: Land and Water Rights
1. Project Title: Securing land and water rights for marginalized communities through people-led advocacy.
2. Project Period: 1st October 2018 to 31st December 2022.
The proposed project is developed based on the long working partnership between Welthungerhilfe, the two land rights and water rights movements EktaParishad and Jal Jan Jodo Abhiyan and their affiliated civil society organisations engaged in securing land and water rights and local good governance in the project locations. The activities proposed build on earlier initiatives such as the EU-supported project on "Building grassroots civil society cadres for effectiveness and transparency", in which two of the present consortium partners, Parmarth and Prayog are partners in this project. The partners jointly identified the following gaps that needed to be addressed to effectively resolve the persisting problem of insecure rights over land and water to the marginalized sections of the community:
The member CBOs and NGOs of different localized and theme-based campaigns are not sufficiently equipped with thematic (land and water) and managerial capacities to capture synergies and become more effective in realizing their goals.
At the operational level, marginalized communities, young leaders and women are in need of knowledge (legal and technological) and tools to participate in local governance and secure their rights to resources and channelize public funds from various schemes for conserving and managing natural resources.
Absence of a platform for widespread public consultation and assessment on technological and policy innovations for resolving longstanding problems of land and water rights.
Based on the identified bottlenecks for achieving security of land and water rights for the target populations, WHH initiated this joint proposal with key inputs from the local consortium partners, viz., Prayog, Parmarth, IAHV and JVS along with other key experts in the field. The common distinction of the consortium partners is that they have a strong and wide base of support from the local communities across different states where they operate actively. The poor and marginalized from the proposed locations for interventions are members of these people-led campaigns.
Direct and indirect target group
Against a national average of 8.2%, tribals in most of the intervention states constitute a high percentage of the total population- 20% in Madhya Pradesh; 32% in Chhattisgarh; 26.3% in Jharkhand and 22% in Odisha (Census 2011). Of the total population, 60% belong to the Below Poverty Line category. In Chhattisgarh, the target groups are tribals such as Dongariaand KutiaKondh, Saharia, Baiga, Pando andSanthali. In Jharkhand, they come from Chero, Kharwar, Paharia, Birhor, Birijia, Santhal, Munda, Oraon and Ho tribes, in UP from Sahariya and in MP from Raotand Gond tribes. Many of these tribes fall under Particularly Vulnerable Tribal groups (PVTGs) due to their small size, pre-agricultural stage of economy, high extent of isolation and low level of literacy. In the state of Bihar, the focus is on the Scheduled Tribes called the Dalits and Mahadalits (extremely poor), which form 16% of the State's population.
Marginalized and highly vulnerable tribal and scheduled caste communities live under constant threat of a state-driven takeover of their forest and common lands. Welthungerhilfe's baseline studies in the selected areas reveal that while on one hand, loss of land and forest resources have pushed tribals into appalling poverty, on the other hand, welfare services and social safety net programmes of the government hardly reach these deprived sections of society due to widespread ignorance, remote location, low literacy rates, poor governance and high corruption. Children and women are the worst sufferers.
Specific objective (Impact): To build and strengthen land and water rights of marginalized groups as a vital element for food and nutrition security and sustainable livelihoods.
Value achieved (quantitative & qualitative):
7080 families have been got the 15359.7791 acres of land rights against the project target of 8000 by taking the achievement.
We have filled 225 claims which are under process. Total 57 CFR/CFRR entitlements have received for 34059 acres of land out of 225 claims.
We could able to involve 20314 participants in the construction of the total 464 structures till now. Peoples are accessing the water resource through these structures.
Target communities from tribal and rural areas, including women, landless and smallholder farmers, have fair and secure access to land and water resources.
Other Achievements:-
Out of 3000 targeted 3160 (1232 Females and 1928 Males) youths from grass root workers are trained in 33 leadership camps. Most of the trained participants are engaged in various local actions.  They were actively involved in interface programs, covid relief work, shramdan camps and preparing village development plans.  The trained leaders are organizing the village group meeting for Gramkosh and the membership drive campaign of the organization. The participants are helping the community for claiming the rights of the land under FRA.  Many youths have filled out the claim form for the community under FRA. They are going to government officials with the community and helping to communicate with administrative staff and political representatives also.
We have reached 347684 people through various programs like awareness campaigns, Plantation drives, many public meetings and Interface events during the reporting period. We have given the information about FRA, PESA, land and forest-related laws and legislations. Through legal literacy, we have sensitized the community through the different public meetings and campaigns.
At the local, district and state level we have approached government officials.  A lot of programs have been organized to dialogue with them. Our district fellows visited the govt. offices, they were getting positive responses. In total we have approached 329 officials and many more with political people.
At the organisational level, we have prepared 580  VDPs for 580 villages. At the end of December 2022, we have submitted 559 VDPs to the GP level. Some of the plans are converged and completed because of the advocacy at panchayat, block and district level government officials and political representatives.
Meeting with forest and revenue secretaries at the secretariat time and again has resulted in releasing a circular on PESA in Chhattisgarh.  Besides ten days long foot march was conducted in all 30 districts of the project area covering 960 villages approaching a population of 60000 approximately.  This yatra was a part of the peace and justice padayatra held all over the country by Ekta Parishad. During the yatra in small meetings and street corner meetings as well discussed land proposed land reform act, panchayat raj law, and implementation of FRA.  This was the grassroot level advocacy to make people aware of the related acts and laws as a part of policy advocacy.
Activities conducted during the project period:
Support mass campaigns.
Support networks and alliances with youth, women and CBOs working on community rights and social inclusiveness.
Conduct multi-stakeholder dialogues with different stakeholders regarding emerging technologies – digitization, Block Chain, and community approach.
Critically assess different laws and legislation through the involvement of law institutes, and people's representatives.
Network with international agencies, and advocacy groups for scaling up project-supporting activities, coordination and monitoring.
Planning, monitoring, review and capacity building.
Project End Evaluation.