Securing land and water rights for women and tribal communities through people led advocacy.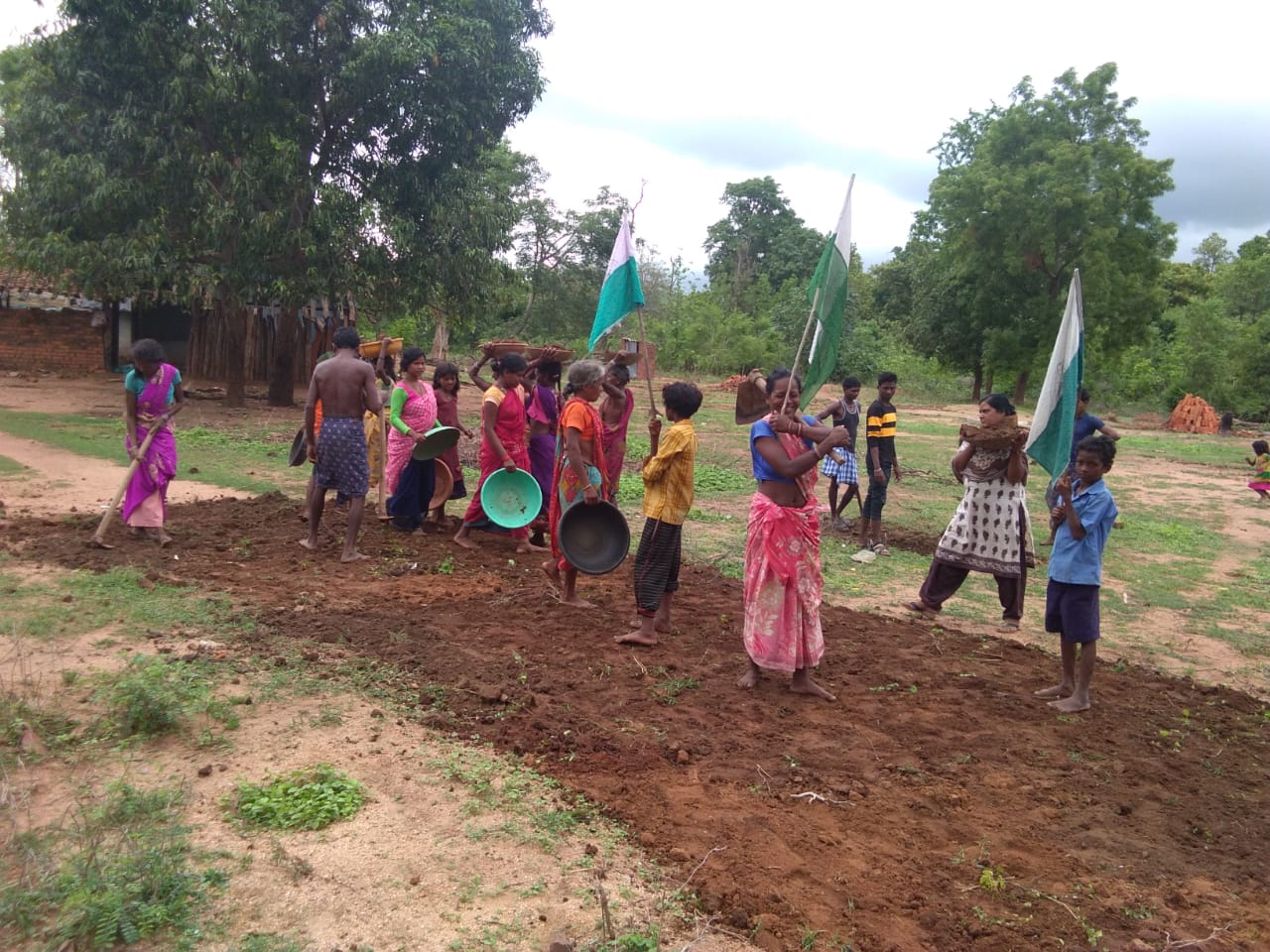 2. Project Category: Land and Water Rights
1. Project Number:AS 1879/IND 1359-18, P Nr. -5541
2. Project Title:Securing land and water rights for women and tribal communities through people led advocacy.
3. Project Period: 1st October 2018 to 31st December 2022.
Project The proposed project is developed based on the long working partnership between Welthungerhilfe, the two land rights and water rights movements EktaParishad and Jal Jan Jodo Abhiyan and their affiliated civil society organisations engaged in securing land and water rights and local good governance in the project locations. The activities proposed build on earlier initiatives such as the EU supported project on "Building grassroots civil society cadres for effectiveness and transparency", in which two of the present consortium partners, Parmarth and Prayog are partners in this project. The partners jointly identified the following gaps that needed to be addressed to effectively resolve the persisting problem of insecure rights over land and water to the marginalized sections of the community:
 The member CBOs and NGOs of different localized and theme-based campaigns are not sufficiently equipped with thematic (land and water) and managerial capacities to capture synergies and become more effective in realizing their goals.
 At the operational level, marginalized communities, young leaders and women are in need of knowledge (legal and technological) and tools to participate in local governance and secure their rights to resources and channelize public funds from various schemes for conserving and managing natural resources.
 Absence of a platform for widespread public consultation and assessment on technological and policy innovations for resolving longstanding problems of land and water rights.
Based on the identified bottlenecks for achieving security of land and water rights for the target populations, WHH initiated this joint proposal with key inputs from the local consortium partners, viz., Prayog, Parmarth, IAHV and JVS along with other key experts in the field. The common distinction of the consortium partners is that they have a strong and wide base of support from the local communities across different states where they operate actively. The poor and marginalized from the proposed locations for interventions are members of these people-led campaigns.
3. Direct and indirect target group
Against a national average of 8.2%, tribals in most of the intervention states constitute a high percentage of the total population- 20% in Madhya Pradesh; 32% in Chhattisgarh; 26.3% in Jharkhand and 22% in Odisha (Census 2011). Of the total population, 60% belong to Below Poverty Line category. In Chhattisgarh, the target groups are tribals such as Dongariaand KutiaKondh, Saharia,Baiga, Pando andSanthali. In Jharkhand they come from Chero, Kharwar, Paharia, Birhor, Birijia,Santhal, Munda, Oraonand Ho tribes, in UP from Sahariya and in MP from Raotand Gond tribes. Many of these tribes fall under Particularly Vulnerable Tribal groups (PVTGs) due to their small size, pre-agricultural stage of economy, high extent of isolation and low level of literacy. In the state of Bihar, focus is on the Scheduled Tribes called the Dalits and Mahadalits (extreme poor), which form 16% of the State's population.
Marginalized and highly vulnerable, these tribal and scheduled caste communities live under constant threat of state driven takeover of their forest and common lands. Welthungerhilfe's baseline studies in the selected areas reveal that while on one hand, loss of land and forest resources have pushed tribals into appalling poverty, on the other hand, welfare services and social safety net programmes of the government hardly reach these deprived sections of society due to widespread ignorance, remote location, low literacy rates, poor governance and high corruption. Children and women are the worst sufferers.
4. Impact matrix (targets and indicators)
Overall objective (Impact): To build and strengthen land and water rights of marginalized groups as a vital element for food and nutrition security and sustainable livelihoods.
Project purpose (Outcome) Indicators
Current status
(quantitative and qualitative) Target
(quantitative and qualitative)
Target communities from tribal and rural areas, including women, landless and smallholder farmers, have fair and secure access to land and water resources. – 70 million farmers own their land but, majority of them have issues of ownership records, claims, adverse possession, litigations in India.
– The issue of landlessness has alarming levels of 56% in rural India; Madhya Pradesh (55%), Chhattisgarh (47%), Bihar (65%) and Odisha (54%). (Socio-Economic Caste Census report – SECC 2015)
– 75% of full time women work force is in agriculture as compared to 59% men while women ownership of land varies between 9-13% only.
– More than 300 districts in 13 states are grappling with drinking water shortages with Uttar Pradesh and Madhya Pradesh reporting the highest number of 50 and 46 districts respectively In target geographical areas:
-8000 households get new land titles (approximately 50% of these would be women)
– 250 new community forest applications filed
10000 Households get access to community water resources by restoring/creating 200 water bodies
Results(Output) Indicators (possibly including quantity structure)
Current status
(quantitative and qualitative) Target
(quantitative and qualitative)
1. Improved capacities of grassroots workers belonging to civil society movements to facilitate and enhance interventions for communities to secure their land and water rights. – People's movements are scattered and unorganized.
– Grassroot functionaries need sharper skills on legal, technical, political and administrative framework related to land and natural resources – Governance structures for the civil society campaigns are established and strengthened at state and district levels.
– 6000 grassroots workers are trained on facilitating community-based planning and monitoring tools
2. Replicable models of land and water governance, using best practices and innovations drawn from different parts of India, are demonstrated and institutionalized in rural and tribal communities of seven states – Only 46% of the community claims filed under FRA were settled till Mach 2018
– Communities are not able to file cases due to lack of awareness of their entitlements of land and water.
-Community participation in preparing village development plans is absent or only in name – 500,000 households are sensitized on land rights provided by various laws through legal literacy.
-200 Government officials at different levels- State, District, Block, Panchayat are sensitized on legalities and governance of land and water resources
– 500 participatory village land, forest and water-use plans are submitted to the local governments and public resources mobilized to realize these plans
3. National level policy platforms are established and stregthened to promote innovative policies, technologies and legislative changes on land and water governance – Government of Madhya Pradesh has passed Madhya Pradesh Homestead bill 2017 which provides for land allocation by state government to landless families. Needs to be scaled up to other states.
– Documentation of policy issues and evidence for best practices needs to be improved – At least 5 best practices are replicated by state governments/ orders passed by authorities.
– Best practices and innovations are documented and disseminated.
Project Activities
Result 1: Capacities of grassroots workers belonging to civil society movements are improved, enabling them to facilitate communities in securing their rights to land and water.
Activities:
 Set up and strengthen secretariats for the campaigns.
 Develop a Communications Plan
 Conduct leadership development camps
 Conduct capacity building programmes on issues of land and water rights, Forest Rights Act, PESA, social accountability tolls for community leaders and Panchayat members
 Raise legal awareness on rights of the communities through legal literacy
 Award fellowships to community leaders and journalists
Result 2: Replicable models of integrated land and water governance, using best practices and innovations drawn from different parts of India, are demonstrated and institutionalized in rural and tribal communities of seven states.
Activities:
 Preparation of village development plans by the communities
 Promote use of innovative technology
 Organize "Shramdan Camps" (voluntary labor) for reconstruction and conservation of common property resources in the villages
 Interface dialogue amongst community, elected representatives and officials on grievances and possible solutions
Result 3: National level policy platforms are established and strengthened to promote innovative policies, technologies and legislative changes on land and water governance
Activities:
 Support mass campaigns
 Support networks and alliances with youth, women and CBOs working on community rights and social inclusiveness
 Conduct multi-stakeholder dialogues with different stakeholders regarding emerging technologies – digitization, Block Chain, community approach
 Critically assess different laws and legislation through involvement of law institutes, and people's representatives
 Network with international agencies, advocacy groups for scaling up
Project supporting activities, coordination and monitoring
 Planning, monitoring, review and capacity building
 Project End Evaluation